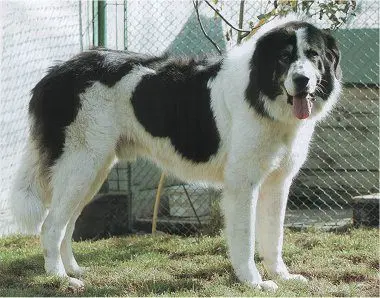 Characteristics of Bucovina Shepherd
| | |
| --- | --- |
| Country of origin | Romania |
| The size | Large |
| Growth | 64–78 cm |
| Weight | 50–90 kg |
| Age | 10–14 years old |
| FCI breed group | Pinschers and Schnauzers, Molossians, Mountain and Swiss Cattle Dogs |
Bucovina Shepherd Characteristics
Brief information
Bold, fearless;
Excellent guards;
They require meticulous care.
Character
The Bukovinian Shepherd Dog is an ancient breed of dog. Her homeland is the Romanian Carpathians. For many years, animals of this breed have been helping shepherds guard and protect herds of sheep grazing on the slopes of the mountains. Interestingly, in her homeland, the breed is also called kapau and dalau.
The Bukovinian Shepherd Dog is a typical representative of the Shepherd group. Bold, courageous, with well-developed guarding instincts, dogs of this breed can become excellent defenders of the territory and a private home. However, like all shepherd dogs, they need control and competent training . The general course of training and protective guard service is a necessary minimum if you plan to have a pet not only as a companion. At the same time, it is recommended to immediately contact a professional dog handler , so that you do not have to correct the mistakes of education later.
Bukovina Shepherd Dogs are devoted to their family and pack, they do not trust strangers. Enough time must pass for the dog to recognize the guest as "his own". The animal infrequently makes contact first, preferring to stay away. However, the shepherd rarely shows aggression, only in dangerous situations, when it decides that there is a real threat to the family and territory. Dogs are able to assess the situation and in exceptional cases act independently.
Behaviour
Despite the strict and independent appearance, Bukovina Shepherd Dogs make excellent nannies. Especially if the puppy grew up surrounded by children. Caring and gentle dogs will never offend kids, so parents can safely let the child walk alone with the dog: he will be under reliable control.
The Bukovina Shepherd Dog is quite loyal to the neighbors in the house, including dogs and even cats. As a rule, these animals are not prone to conflicts, but, of course, everything depends on the individual animal. Some representatives are not too fond of cats and small rodents.
Bucovina Shepherd Care
The luxurious thick coat of the Bukovina Shepherd Dog is the dignity of the breed. However, it requires proper care. The dog should be combed daily with a stiff massage brush to remove loose hairs. And during molting, it is recommended to use a furminator.
It is also important to examine your pet's teeth, ears and eyes weekly. To keep your teeth healthy, give your dog occasional hard chew treats.
Conditions of detention
The Bukovinian Shepherd Dog is a large dog. In a small apartment, she may be cramped. But if the owner is able to provide the pet with walks, sports and running, then such problems most likely will not arise.
Bukovina Shepherd Dogs love open spaces, they need a sense of freedom. Therefore, they feel best in free range on the territory of a private house. Keeping dogs on a leash or in an aviary is not recommended.
Bucovina Shepherd – Video