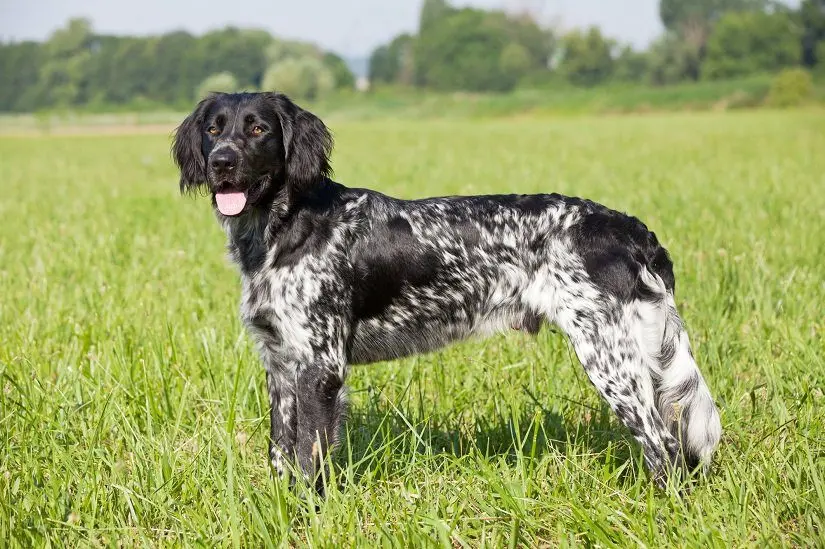 Characteristics of Big Münsterländer
| | |
| --- | --- |
| Country of origin | Germany |
| The size | Average |
| Growth | 58-65 cm |
| Weight | 30 kg |
| Age | 10–12 years old |
| FCI breed group | cops |
Big Münsterländer characteristics
Brief information
Easy to learn;
Obedient, attentive;
Calm, balanced.
Character
The Greater Münsterländer, along with the Lesser Münsterländer and the Langhaar, belong to a family of long-haired German Pointing Dogs whose planned breeding began at the end of the 19th century. And until 1909, the Münsterländer was considered one of the varieties of langhaar. However, at some point breeders from the German Longhair Club began to reject black animals from breeding breeding. The breed could have disappeared if not for the Münsterländer Club founded in 1919, which took over the responsibility for breeding black and white dogs.
The Greater Münsterländer is considered a versatile breed, although its specialty is bird hunting (it is a gun dog). The hunters themselves especially appreciate these animals for their easy learning and obedience.
Behaviour
Representatives of the breed make pleasant students, attentive and quick-witted. The main thing is to find an approach to the pet. If the owner does not have enough experience in raising dogs, it is better to contact a cynologist. Even the most sensitive and calm animals require discipline and a firm hand.
Persistent and industrious big Münsterländer today start up not only as assistants on the hunt, but also as companions. Caring and affectionate, they become attached to all family members. In addition, they make good nannies for school-age children.
The Münsterländer treats strangers with distrust. He rarely makes contact first, but does not show aggression and cowardice. They are rarely used as watchdogs, yet the true purpose of these dogs is hunting.
The large Münsterländer treats animals well in the house, quickly finds a language with relatives. He also gets along well with cats. Like many large dogs, the Münsterländer treats them calmly.
Big Münsterländer Care
The long coat of a large Munsterlander requires careful care from the owner. The dog needs to be brushed every week with a massage brush. During the molting period, the procedure should be carried out more often, up to three times a week.
Bathe pets as they get dirty: as a rule, once a month is enough. It is also important to inspect the ears of this breed of dogs – the special shape makes them sensitive: they are not properly ventilated, and this can lead to the development of infections.
Conditions of detention
The Great Münsterlander is a freedom-loving dog. Active and energetic, he needs daily long walks. It is very important to play with the dog, run, offer it various physical exercises. Without proper loads, a pet can become uncontrollable, capricious and even aggressive.
Big Münsterländer – Video