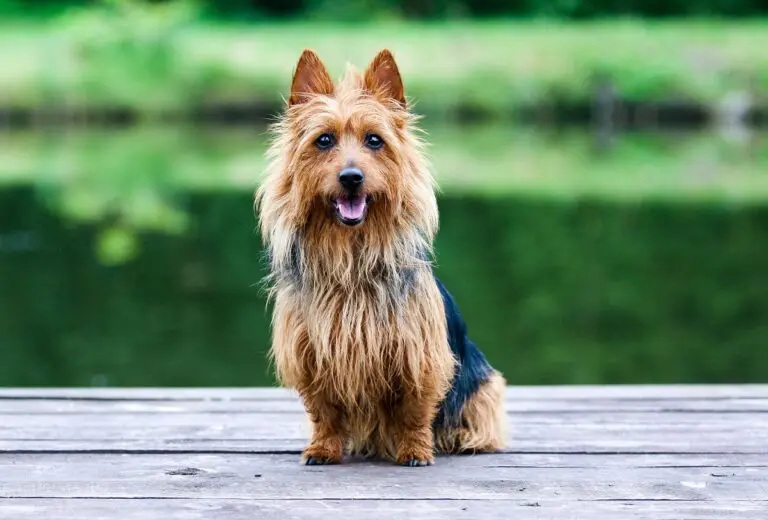 Characteristics of Aaustralian terrier
| | |
| --- | --- |
| Country of origin | Australia |
| The size | Miniature |
| Growth | 23-28 cm |
| Weight | 4–6 kg |
| Age | 12–15 years old |
| FCI breed group | Terriers |
Aaustralian terrier
Brief information
Out of size brave and daring;
Animals with good intellectual abilities and ingenuity;
As a rule, they are quite calm and balanced, but there are exceptions.
Character
The small Australian Terrier is a true hunter and adventurer. This breed is originally from Australia, and researchers have not yet been able to establish its ancestors. Australian Terriers are believed to be descended from English Terriers that were brought to the Continent in the 19th century. Some are convinced that their relatives are Yorkshire Terriers , they are very similar. Interestingly, the Australian Terrier was officially registered not so long ago – in 1933.
The Australian Terrier is a typical representative of the terrier group. This is a fearless dog that is always ready for games, running and other joint activities with the owner. Australian Terriers are so courageous that sometimes, without a shadow of a doubt, they are able to engage in an unequal battle with a large dog. Therefore, socialization is one of the key points in the education of representatives of this breed, acquaintance and communication of the Australian Terrier with relatives should begin as early as possible.
However, the Australian Terrier is rarely cocky, usually it is a calm and devoted companion of an energetic person. It will be an ideal companion for families with school-age children – cheerful dogs of this breed will be happy to participate in children's games. But the Australian Terrier is not always able to get along with animals in the house. Despite the sociability and cheerful disposition, the dog has excellent hunting instincts. Therefore, it may well pass for a thunderstorm of neighbor's cats! The same, alas, applies to rodents living nearby.
The Australian Terrier is a small dog, but this does not prevent him from enjoying outdoor activities. He will be an excellent companion on a hike in nature and an attentive traveler on a trip abroad. With a well-bred Australian Terrier there will be no problems.
Representatives of the breed are good guards. They are distrustful of strangers and rarely show friendliness towards them. But much in this case depends on the upbringing of the dog and the level of its socialization.
Australian terrier Care
The Australian Terrier has a short, coarse coat that needs to be trimmed several times a year. The coat of the dog does not change on its own, so the pet requires careful care.
We must not forget about the regular care of the oral cavity and claws of the pet.
Conditions of detention
The Australian Terrier is unpretentious in content. Due to its small size, it feels comfortable in a city apartment. The main thing is to provide the dog with long walks so that the pet can run around and spend the energy accumulated during the day.
Australian terrier – Video