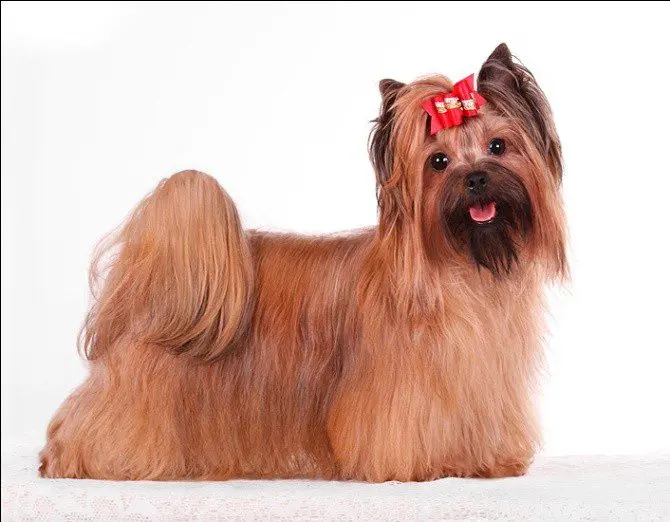 Characteristics of Russian Salon Dog
| | |
| --- | --- |
| Country of origin | Russia |
| The size | Miniature |
| Growth | 18-28 cm |
| Weight | 1.8-3.5 kg |
| Age | up to 15 years |
| FCI breed group | Not recognized |
Russian Salon Dog Characteristics
Brief information
Young and fairly rare breed;
Affectionate and trusting dogs;
The short name of the breed is mermaid.
Character
The Russian Salon Dog is a new breed of dog that was developed in the late 1990s. Yorkshire terriers , Shih Tzu and long-haired toy terriers, as well as representatives of other breeds from the group of decorative dogs and companion dogs, took part in the selection . The Russian Salon Dog was officially recognized by the RKF in 2013. And today the breed is considered quite rare and expensive.
Mermaid, as the Russian salon dog is affectionately called, is a calm and balanced pet. Breeders admit that they tend to choose mentally stable, stable individuals for selection. Therefore, the mermaid, unlike many miniature dogs, has an accommodating character. She is ready to keep company with her beloved owner almost everywhere, this is an excellent companion for both city walks and travel.
Mermaids are distinguished by a rather quiet behavior, they rarely give a voice. They were created as decorative pets, and you should not count on their "security" qualities. Representatives of the breed are very sociable and friendly, they tend to trust strangers. Much depends on the characteristics of a particular pet and its upbringing: the more the puppy meets and communicates with people, the faster he will trust them.
Behaviour
The Russian salon dog is gentle and playful. She will gladly become the center of everyone's attention. The pet will be happy next to the owner who loves him. In addition, these small and energetic dogs are always happy to spend time together with children. They will participate in games with interest and will gladly support any pranks. It is better to explain to the child in advance how to behave with a dog in order to avoid unpleasant situations: a miniature pet is easy to injure through negligence.
Mermaids are non-confrontational and easily get along with other animals in the house. Unlike Yorkshire Terriers, they do not strive for leadership and are able to accept previously established rules.
Care
Dogs of this breed have a luxurious coat that does not shed, but requires careful care. Every 1.5–2 weeks the dog needs to be bathed and combed .
According to the standard, a Russian salon dog can have both short-haired and long hair – it all depends on the personal preferences of the owner.
It is also necessary to monitor the health of the eyes, ears and teeth of the pet. It is recommended to inspect them weekly and clean them in a timely manner.
Conditions of detention
The Russian salon dog is an ideal pet for a city apartment. He can be accustomed to a diaper, but in no case should you refuse to walk. Despite the fact that these dogs are calm and do not require long active sports, they must be taken outside twice a day for 30-40 minutes.
Russian Salon Dog – Video