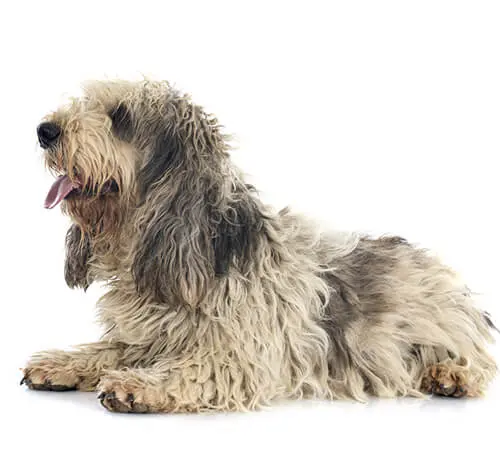 Grand Basset Griffon Vendéen
Characteristics of Grand Basset Griffon Vendéen
| | |
| --- | --- |
| Country of origin | France |
| The size | Average |
| Growth | 38-45 cm |
| Weight | 17–21 kg |
| Age | 12–15 years old |
| FCI breed group | Hounds and related breeds |
Grand Basset Griffon Vendéen Characteristics
Brief information
Obedient, although they can be quite stubborn;
Alert, always in control;
Courageous.
Character
The Great Vendée Basset Griffon is a French breed that originated in the 19th century. Its main ancestors are the Gallic Hounds, the Grand Griffon and some other breeds. Interestingly, until the middle of the 20th century, there were no differences between the large and small Basset Vendée, in fact, dogs were considered one breed. And only in 1950 did they separate, and in 1967 they were recognized by the International Cynological Federation .
The Great Vendée Basset Griffon has all the qualities of a real hunter: they are purposeful, persistent and hardworking dogs. They are reckless and energetic, although sometimes they show independence and independence.
The key virtues of the breed are obedience and loyalty to the adored owner. With what trepidation the great Vendée Basset Griffon treats members of his family! Experts do not recommend leaving a dog alone for a long time: without the company of loved ones, its character quickly deteriorates, and the animal becomes nervous and uncontrollable.
Behaviour
The large Vendée Basset Griffon has excellent working qualities. Until now, the dog accompanies hunters on a campaign for big game – for example, deer. A fast and hardy dog ​​is able to drive prey through an impenetrable forest thicket for a long time.
It is worth noting the sociability of large basset griffins and their friendliness. Yes, the dog is unlikely to be the first to make contact with a stranger, but he will not refuse to communicate either. Therefore, basset griffons are used extremely rarely as guards and watchmen, after all, their main vocation is hunting.
The Large Vendée Basset Griffon is great with children and is even considered a good nanny. The dog with surprising patience potters even with kids.
With animals in the house, the large Vendée Basset Griffon gets along quite well: he can compromise if necessary. However, the dog will not tolerate attacks from aggressive "neighbors", she is always ready to stand up for herself.
Grand Basset Griffon Vendéen Care
The Great Vendée Basset Griffon has a tough, thick coat that needs attention. Every week, the dog is combed out with a wide-toothed comb, and during the shedding period, with the help of a furminator. Bathe your pet as needed, but not too often. It is enough to carry out the procedure once every 2-3 months.
Conditions of detention
The Great Vendée Basset Griffon is a runner and exercise lover. Physical activity is especially important if the dog is kept as a companion. At least once a week, it is advisable to take your pet outdoors (for example, to a park or forest) so that he can run around to his heart's content.
You also need to watch your dog 's diet. Representatives of the breed are prone to weight gain.
Grand Basset Griffon Vendéen – Video