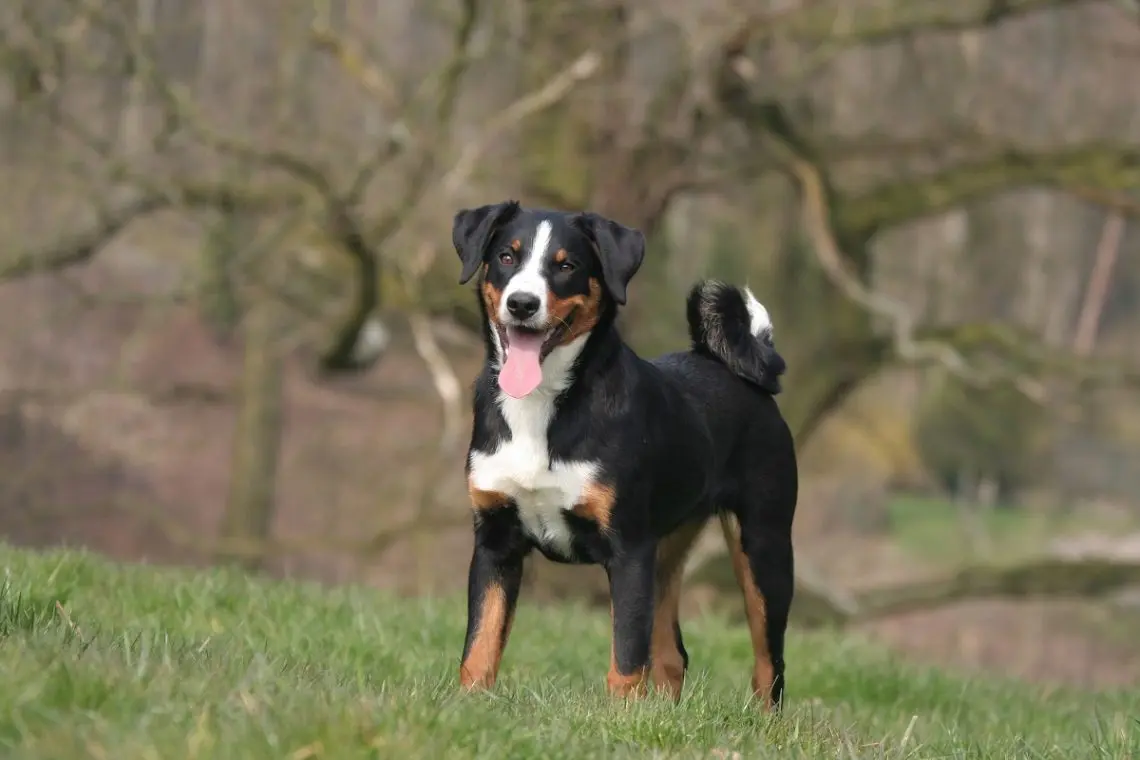 Characteristics of Appenzeller Sennenhund
| | |
| --- | --- |
| Country of origin | Switzerland |
| The size | Average |
| Growth | 47–58 cm |
| Weight | 22–32 kg |
| Age | 22–32 kg |
| FCI breed group | Pinschers and Schnauzers, Molossians, Mountain and Swiss Cattle Dogs |
Appenzeller Sennenhund Characteristics
Brief information
Smart, quick-witted, well trainable;
Excellent guards;
Loud, like to bark.
Character
The Appenzeller Sennenhund breed is from Switzerland. Like other dogs of the Sennenhund type, they have been helping people to graze cattle since ancient times. By the way, this is reflected in the name: "Sennenhund" has a reference to the word "Zenn" – that's what the shepherds were called in the Alps, and "hund" literally means "dog". The word "appenzeller" in the name of the breed is an indication of the historical place where these working dogs were bred.
The breed received official recognition at the international level in 1989.
Appenzeller Sennenhund is an active, hardworking and strong dog, an excellent guard and watchman. Needs early socialization and training . He is suspicious of strangers, but does not show aggression.
Appenzeller lends itself well to training, he is smart and attentive. However, you should not give up slack: dogs of this breed are quite independent and independent in making decisions.
I must say, Appenzeller loves games and all kinds of entertainment. A former working dog, today it can be a great companion for families with children and single people. The pet will gladly accompany the owner both on walks in the city and in the forest.
Behaviour
Appenzellers can sometimes even be hyperactive, they need physical activity – without it, furniture, shoes and other things in the apartment can be under attack. Offer surprise toys, fetching exercises, and running to keep your pet occupied and energized.
The Appenzeller Mountain Dog gets along well with other animals if raised with them since childhood. Much in the relationship of pets depends on the upbringing and socialization of the dog.
With children, representatives of the breed are open, kind and very affectionate. They enjoy playing with school children. But for safety reasons, it is better not to leave the dog alone with the kids.
Appenzeller Sennenhund Care
Appenzeller Sennenhund – the owner of a fairly thick short coat. To keep the house clean, two to three times a week, the dog needs to be combed with a massage brush. It is also important to carry out monthly hygiene procedures: brushing your teeth and trimming your nails .
Conditions of detention
Appetsneller Sennenhund is a medium-sized dog, but due to its temperament it is quite active and freedom-loving. Representatives of the breed can live in a city apartment, but they will be truly happy in a private house. The dog must not be put on a chain or in an aviary: this is a companion who must live in the house.
In the city with a pet, you need to walk two or three times a day, and on weekends it is advisable to go out of town – to a field or forest, so that the dog can properly warm up and splash out energy in the fresh air.
Appenzeller Sennenhund – Video