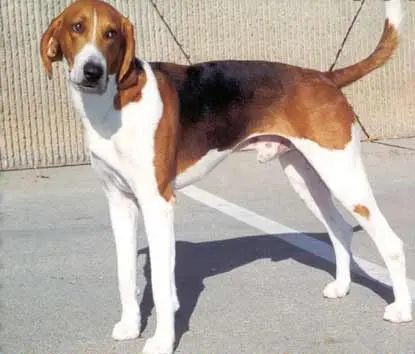 Characteristics of American Foxhound
| | |
| --- | --- |
| Country of origin | USA |
| The size | Large |
| Growth | 53-64 cm |
| Weight | 29–34 kg |
| Age | 10–12 years old |
| FCI breed group | Hounds and related breeds |
American Foxhound Characteristics
Brief information
Calm, balanced and attentive dog;
Purposeful and freedom-loving, therefore it needs training;
Friendly and upbeat.
Character
The American Foxhound is one of the oldest hounds in the United States, the breed owes its origin to the English Foxhound . It is believed that English dogs appeared in America in the 17th century. As a result of their crossing with French hounds and Irish terry beagles, a light, sonorous and loud dog was obtained, which immediately won the hearts of American hunters. Over time, she won love and recognition around the world: the American Kennel Club registered her in 1886, and the International Cynological Federation in 1979.
Calm and reserved, at first glance, American Foxhounds in the family circle can be real fidgets. These dogs are quite independent and independent, easily make decisions and strive for freedom. That is why it is so important to start raising a pet from childhood. At the same time, it is necessary to find an approach to the dog: touchy and vulnerable, they require due respect and attention from the owner.
Representatives of the breed are devoid of aggression, and they are indifferent to strangers. However, at the first meeting, the foxhound will definitely demonstrate its distrust. By the way, dogs have a rather loud voice – this is their feature, which is so appreciated by hunters. If you are planning on getting a puppy as a companion, be prepared for loud barking, although dogs only speak out when absolutely necessary.
The American Foxhound can be an excellent guard dog with proper training. But you should not expect from him the diligence of a shepherd dog – after all, this is a hound.
Behaviour
Interestingly, a well-bred American Foxhound is indifferent to smaller animals in the house: cats, rodents and birds. And an ill-mannered dog can become a real threat to animals smaller than him.
The playful American Foxhound gets along well with children. He will be especially happy to communicate with schoolchildren who can support the game, run with the dog and play sports with it. It is better not to leave a pet with kids.
Care
The American Foxhound is fairly easy to care for. The short coat of the dog falls abundantly twice a year – in spring and autumn. During these periods, the dog is wiped with a damp towel or just by hand a couple of times a week.
It is important to take care of your pet's ears. Like other breeds with floppy ears, they can develop infections if hygiene is not followed.
Conditions of detention
The American Foxhound is very active. A dog can run for hours in nature and not get tired at all. Therefore, she needs long, exhausting walks. The pet will feel great in a private house with a large yard, where he will have constant access to fresh air and games in the yard.
American Foxhound – Video