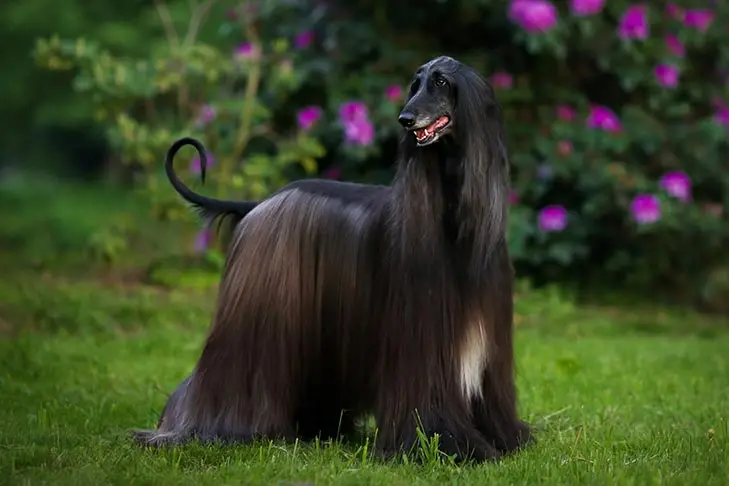 Characteristics of Afghan Hound
| | |
| --- | --- |
| Country of origin | Afghanistan |
| The size | large |
| Growth | 60–74 cm |
| Weight | 25-30 kg |
| Age | 13-15 years old |
| FCI breed group | greyhounds |
Afghan Hound Characteristics
Brief information
dogs of this breed are aristocratic, intelligent and independent;
they are noble and sometimes stubborn;
need more attention and care.
Character
At the first glance at the Afghan hound, it becomes clear that this is a real aristocrat in front of you. Become, posture, amazing long hair – the Afghan cannot leave anyone indifferent.
Like other greyhounds, this dog is not characterized by the desire for dominance. On the contrary, she is very gentle and affectionate, with a soft character. The Afghan Hound will happily bask in the attention and give all his love to family members. Very kind, Afghans are by nature devoid of aggression and anger. True, they will show other feelings rather dryly: these dogs prefer not to flaunt their emotions.
The Afghan Hound needs to be socialized as early as possible, otherwise the dog will be afraid of strangers and be wary and wary of other animals. Also, representatives of this breed do not tolerate noise and harsh sounds, so they can hardly be happy in a family with small children. But the Afghan hound loves older children and is ready to spend time with them playing.
This dog is not easy to train. But it's not about intelligence. On the contrary, dogs of this breed are very smart and grasp everything on the fly. Stubbornness and independence in making decisions are the reasons why they may refuse to execute commands . It takes willpower, patience and perseverance to raise an Afghan well. Even professional cynologists talk about the difficulties of training, so it is better for beginners to do without experiments and immediately seek help from specialists.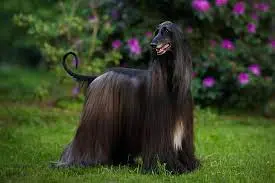 Afghan Hound Care
Seeing a well-groomed Afghan Hound, it is difficult to forget her image. In order for the dog to attract the eyes of others, its long hair must be carefully looked after. Daily procedures include combing curls to avoid the formation of tangles. Bathe your dog once or twice a month using a special shampoo and conditioner. Dry the animal's hair with a hair dryer to get to the roots. If the dog participates in exhibitions, she needs a haircut at the groomer at least twice a year.
You also need to pay attention to the ears of the Afghan hound: like dogs of other lop-eared breeds, the ears of the Afghan are prone to infectious diseases.
Conditions of detention
It is believed that the Afghan Hound is adapted to life in a city apartment. Nevertheless, she needs to allocate her own space and, of course, provide physical activity. Walks with this energetic dog should last 2-3 hours daily. On the street, the owner should be very careful and watch the dog: street cats, small dogs or rodents can awaken a true hunter in the Afghan hound. In such a situation, it will be impossible to keep up with the pet, and this may end badly.
The long coat protects the dog from the cold, but in the summer the animal's stay outside should be reduced. Afghan hounds do not tolerate heat and heat well. During these periods, the owner must ensure that the dog always has access to fresh water, and also has the opportunity to hide from the sun in a cool place.
Afghan Hound – Video