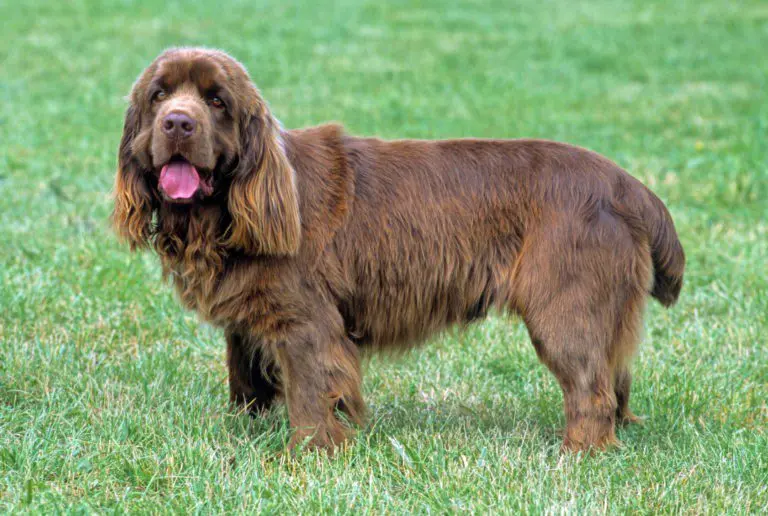 Characteristics of Sussex Spaniel
| | |
| --- | --- |
| Country of origin | Great Britain |
| The size | Average |
| Growth | 38–40 cm |
| Weight | 18–20 kg |
| Age | 12–15 years old |
| FCI breed group | Retrievers, spaniels and water dogs |
Sussex Spaniel Characteristics
Brief information
Friendly, sociable;
Phlegmatic, can be lazy;
Rare breed;
An excellent companion for lovers of a relaxing holiday.
Character
The Sussex Spaniel was bred at the end of the 18th century in the English county of Sussex for hunting in the rugged forests of this area. It is believed that the first breeder and breeder of dogs was a landowner named Fuller. To develop a new breed, he crossed several types of spaniels, including Cockers , Springers and Clumbers . The result of the experiments was the Sussex Spaniel – a rather massive medium-sized dog. Sussex specializes in bird hunting, and in his work he mainly uses his voice.
The Sussex Spaniel will make an excellent companion for families with small children, as well as for the elderly. At home, this is a calm, phlegmatic dog that will not require many hours of walks from the owner. A quiet family evening will suit him perfectly, the main thing is that the beloved owner is nearby.
The Sussex Spaniel is friendly to strangers. He can be a little clamped only for the first half hour of acquaintance. This dog trusts strangers, and a new person for her is not an enemy, but a friend. Therefore, the Sussex Spaniel rarely becomes a guard. Although with proper training , he may well cope with these duties.
Behaviour
Representatives of the breed often act as therapists. It is understandable: soft and kind dogs are absolutely devoid of aggression. Experts recommend getting a pet of this breed for young children. The Sussex Spaniel will not mind games and pranks. If something does not suit him, he will not show dissatisfaction, but rather just quietly leave the game.
With animals, the Sussex Spaniel quickly finds a common language. An absolutely non-conflict dog will not show character in front of his relatives. And he's good with cats too. The only problem may be the neighborhood with birds – the hunting instinct of the dog affects. But, if a puppy has grown up next to a feathered one since childhood, there should not be any unpleasant situations.
Care
The long, wavy coat of the Sussex Spaniel needs to be brushed three to four times a week. During the shedding period, the procedure is repeated daily to rid the dog of fallen hairs.
Pay special attention to the ears and eyes of the pet. They also need timely care – inspection and cleaning.
Conditions of detention
The Sussex Spaniel thrives in a city apartment. Yes, he is not too energetic at home, but he still needs daily walks, as well as physical exercises. We must not forget that this is a hunting dog and that active outdoor activities give her pleasure.
Sussex Spaniels are famous eaters. The owner of a dog of this breed should carefully monitor the pet's diet and its physical form: spaniels quickly gain weight.
Sussex Spaniel – Video