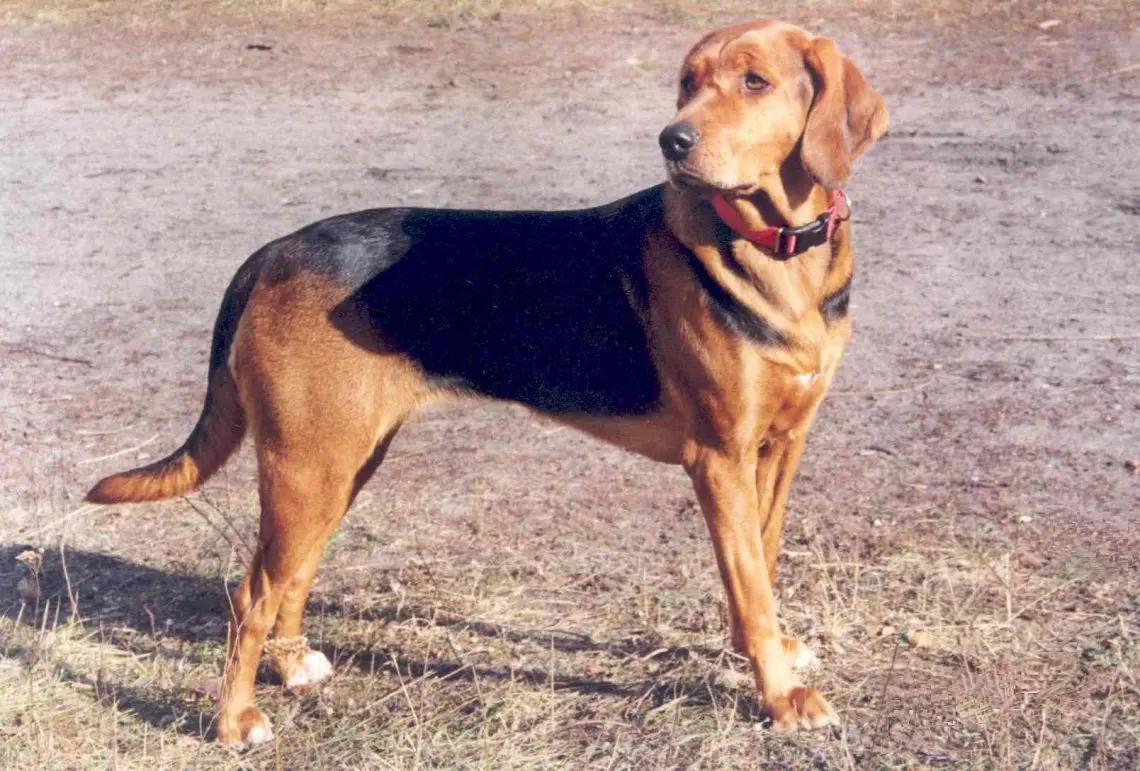 Characteristics of Polish Hound
| | |
| --- | --- |
| Country of origin | Poland |
| The size | average |
| Growth | 50-59 cm |
| Weight | 25–32 kg |
| Age | 12–14 years old |
| FCI breed group | Hounds and related breeds |
Polish Hound Characteristics
Brief information
Attentive, balanced;
A working breed, these dogs are rarely kept as companions;
A devoted student and an excellent assistant on the hunt.
Character
The Polish Hound is one of the oldest breeds in Poland, known since the 13th century. The first mention of dogs involved in catching wild animals dates back to this time.
In the hunting books of the early 19th century, a description is already given of specific breeds of Polish hounds: one type is a heavier brakk, and the second is a light hound.
Unfortunately, during the Second World War, almost the entire population of purebred dogs in Europe, including Poland, was destroyed. However, thanks to Colonel Józef Pavlusiewicz, a passionate hunter and admirer of Polish hounds, the breed was restored. It is he who is today considered her "godfather".
The Polish Hound is an obedient and devoted companion with excellent performance characteristics. For this, thousands of hunters around the world fell in love with her: in Russia, Germany, the Czech Republic, Turkey and even Norway there are connoisseurs of these dogs!
Behaviour
The Polish hound specializes in catching big game – wild boars and deer, as well as foxes and hares. Dogs have a pleasant sonorous voice, which they use when hunting.
Energetic and indefatigable in their work, at home Polish hounds show themselves exclusively as calm and intelligent dogs. They are moderately playful, friendly and unobtrusive – such a pet will not follow the owner everywhere, he will find entertainment for himself while he is busy with business. The Polish Hound treats children with understanding and can have fun with schoolchildren. It is not recommended to leave her with the kids, it is also not worth waiting for the enthusiasm of the nanny dog ​​from the hound in communicating with children.
The Polish Hound quickly gets along with dogs as it rarely works alone. Relations with cats depend on the animals themselves, their temperament and sociability. Breeders note the amazing ability of the Polish hound to training. Representatives of the breed love logical tasks and quickly delve into the learning process. However, this dog does not tolerate rigidity and monotony in training, it perceives play methods and affection best of all.
Polish Hound Care
The short, smooth coat of the Polish Hound is virtually maintenance-free. It is enough to wipe the dog once a week with a damp hand or a towel to get rid of the fallen hairs. During the molting of a pet, comb medium-hard brush twice a week.
Bathe dogs no more than once every 2-3 months to maintain the protective layer that covers the coat.
Conditions of detention
Like any hound, the Polish will require long walks and regular active exercises from the owner.
This is a working breed, its representatives do not start as companions. Therefore, she needs appropriate content, and participation in a real hunt is an important component of it.
Polish Hound – Video