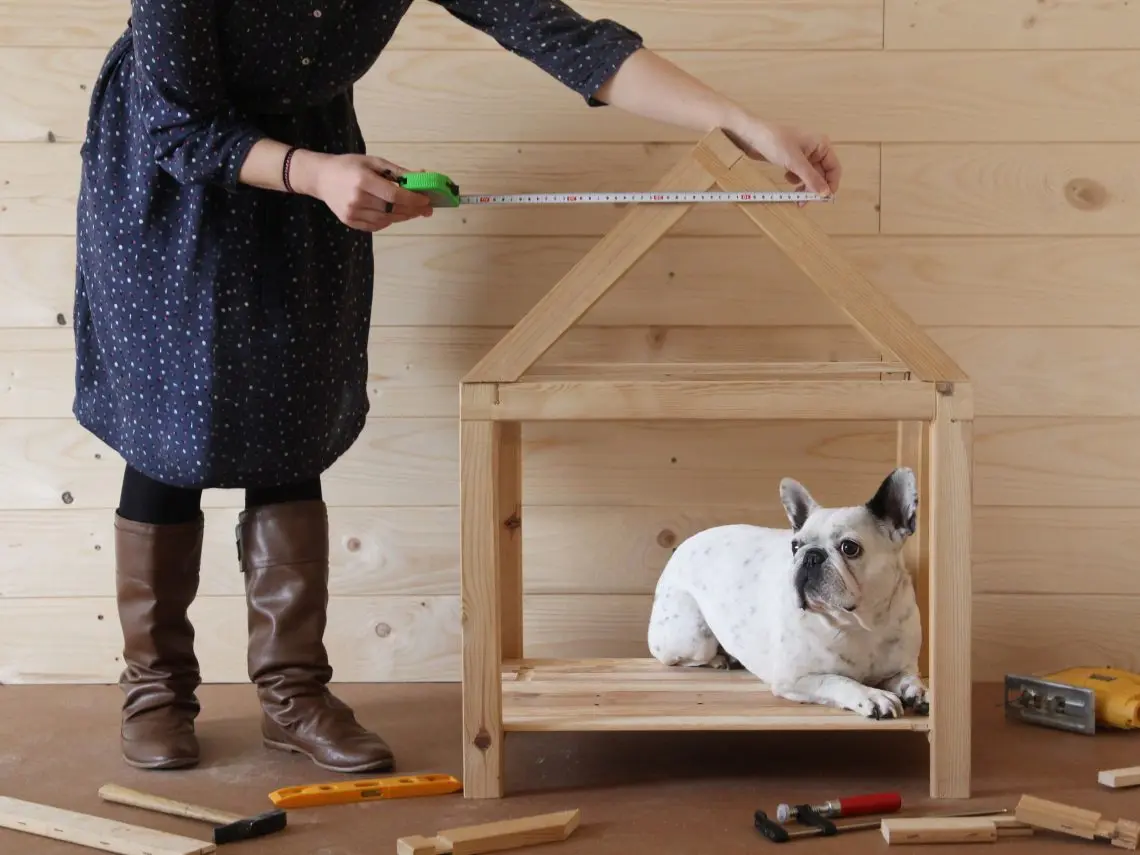 How to make a house for a dog?
There are a lot of options and for every taste. The main thing is to determine in advance what the dog house is for and how it will be used. For the street, a wooden booth is best suited, for an apartment – a soft house. At the same time, indoors, large dogs will probably be more comfortable in a lounger, while representatives of small and medium breeds can be invited to settle in a closed house.
Types of houses
Booth. A street house can be made of wood, metal or brick. The most popular material for manufacturing is still wood. This is due to the simplicity of working with it and environmental friendliness.
Particular attention should be paid to the size of the booth. For large dogs, it is important to leave a "margin" so that the pet can stretch, roll over and stand inside.
If the pet lives on the street all year round, it makes sense to make two options for the booth – winter and summer. The booth for the cold season should be warm. The walls can be made double to use insulation between them. It is also important to consider a warm floor covering and protection at the entrance so that rainwater and snow do not blow into the booth. A tarpaulin is perfect for this purpose.
Home house. A house for an apartment can be both soft and hard. The choice of material is limited by the imagination of the dog owner. Today, soft houses, consisting of a couch and a cradle-type roof, are very popular. You can go for a little trick and not sew the roof to the stove bench, but pin it. Then, in hot weather, it can be folded back, turning the house into an open couch.
An easier option for making a house is a cardboard box and plywood. However, there is also a minus in it: cardboard absorbs odors too well, so such a booth will often have to be changed.
What to look for:
Warmth and comfort. The house must have a mattress and bedding. They will not only make it more comfortable, but also provide the dog with warmth in the cold season.

Prompt hygiene. The dog house must be put in order at least once a month: wash mattresses and bedding, wipe the walls from dust and dirt. This must be taken into account in the manufacture: for example, it is much more convenient if the roof is removable, folding or detachable.

A place. When choosing where to place the dog house, drafts and too noisy places should be avoided. The same recommendations apply to booths. In addition, it should have a good overview of the entire yard. It is advisable to place it under a tree or a canopy. There the dog will be able to hide from the sun or rain.

Details. When choosing a fabric, pay attention to its composition. Synthetic materials can cause allergies in the animal, as well as excessive electrification of the coat. This is especially true in winter, when the apartment is filled with dry air. It is best to use natural fabrics that are safe for your pet.
The house is your pet's own corner, so it is so important that he is comfortable in it. Who, if not a loving owner, can make a place that is ideal for his pet? One has only to allocate time for this, think it over well, and then the dog will have his own cozy place.
20 September 2017
Updated: December 21, 2017