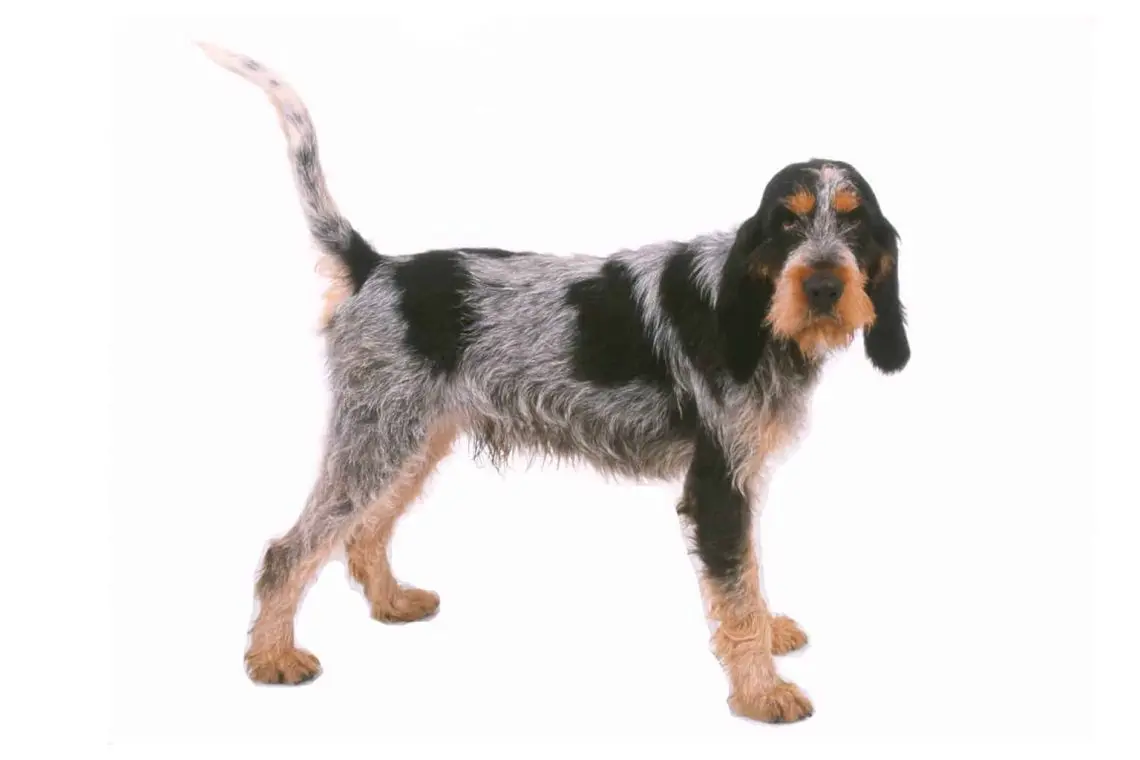 Characteristics of Griffon Bleu de Gascogne
| | |
| --- | --- |
| Country of origin | France |
| The size | average |
| Growth | 50–60 cm |
| Weight | up to 25 kg |
| Age | 14–16 years old |
| FCI breed group | Hounds, bloodhounds and related breeds |
Griffon Bleu de Gascogne Characteristics
Brief information
Gambling and playful;
Loud, outgoing and active;
Affectionate.
Character
All blue Gascon breeds are descended from the crossing of blue dogs that lived in the south and south-west of France, supposedly in the 13th century, with other breeds, including the Saint-Hubert dog, which is also the ancestor of the modern bloodhound. The Great Blue Gascon Hound is believed to be the ancestor of all other French Blue Coated Dogs (Little Hound, Gascon Griffon and Gascon Basset).
The homeland of the Blue Gascon Griffon is the Pyrenees region, more southerly than the areas of origin of other blue breeds. These dogs are descended from crossbreeding with various ancient French Griffons, including the Nivernais Griffon, popular among the nobility of the central regions of France.
The French describe the Blue Gascon Griffon as a peppy, even somewhat fussy dog ​​with an affectionate disposition. She is obedient and very attached to her owner, gentle with children and sociable with other dogs.
Behaviour
The natural vigor of this breed and a highly developed instinct of pursuit require considerable endurance and patience from the owners in training. For the safety of a dog in city life and on the hunt, it must be carefully educated and constantly socialize.
The Blue Gascon Griffon is a versatile hunting dog used for hunting hares and wild boars. Unlike her blue progenitor, she prefers to work alone. However, like him, this griffon is valued for its sharp flair, strong and resonant voice, and enterprise.
The pleasant nature of the Blue Griffon makes it an excellent companion dog, requiring a lot of exercise and space. Previously, dogs of this breed were hunted in the forest, so they need long and active walks that can reveal their talent for overcoming obstacles and mental dexterity.
Care
The Blue Gascon Griffon has a thick, dense, coarse coat. On the one hand, it gets dirty a little during walks and dries quickly, and on the other hand, it needs to be done weekly comb with a special trimming brush. Otherwise, the dog will become overgrown with tangles, and wet dead hairs will smell unpleasant.
The coat of these dogs can be wiped with a damp sponge or towel once every one to two weeks, while clean floppy ears it is important to regularly, otherwise unevaporated moisture will lead to inflammation and the spread of infection.
Griffons, leading the active life they are supposed to, run the risk of being confronted at an honorable age with joint dysplasia. However balanced diet and timely medical examination will save the dog from this disease.
Conditions of detention
For a full healthy life, blue griffons must live in homes with their own spacious yard, in which they can move freely. They need to be walked a lot and only on a leash.
Griffon Bleu de Gascogne – Video