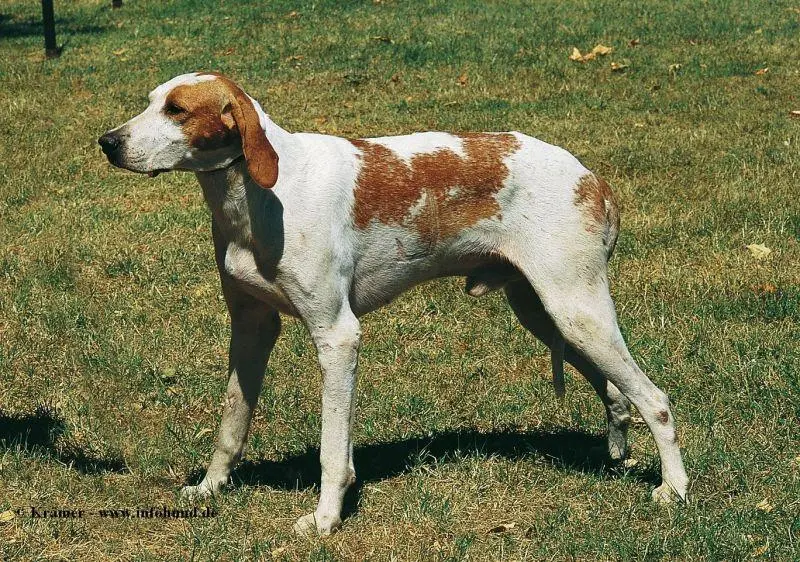 Grand Anglo-Français Blanc et Orange
Characteristics of Grand Anglo-Français Blanc et Orange
| | |
| --- | --- |
| Country of origin | France |
| The size | Large |
| Growth | 58-72 cm |
| Weight | 27-36.5 kg |
| Age | 10–12 years old |
| FCI breed group | Hounds and related breeds |
Grand Anglo-Français Blanc et Orange Characteristics
Brief information
Strong, purposeful;
They rarely act as watchdogs or guard dogs;
Calm, balanced.
Character
The Great Anglo-French Pinto Hound, like many dogs of this breed group, was bred at the end of the 19th century. At that time, hunting was one of the most popular pastimes among aristocrats. And new types of hunting dogs were bred by crossing the best representatives of European hounds.
The ancestors of the Great Anglo-French Pinto Hound were the English Foxhound and the French Hound. It is interesting that the breeders themselves assure that the features of the British ancestor are more clearly traced in her character.
The Great Anglo-French Pinto Hound is a confident hunting dog. She is extremely rarely brought in as a companion: both pronounced hunting skills and the need for constant physical activity affect.
Behaviour
Representatives of the breed are independent, and sometimes too stubborn and independent. This is especially evident in the process of training. It is unlikely that a novice in cynology will be able to properly raise such a dog – it needs a strong hand from an experienced person. The owner of a puppy of this breed is recommended to contact a cynologist.
The large Anglo-French piebald hound is used to working in a pack, so it easily finds a common language even with unfamiliar dogs. Of course, provided that they are friendly. However, for this it must be socialized. After all, even the most good-natured pets can cause a lot of trouble to the owner if they were not socialized on time.
Of the red-piebald hounds, watchdogs and guard dogs are rarely obtained: they are not at all aggressive, they become attached to the owner, and not to the territory. Moreover, viciousness and cowardice are considered the vices of the breed. Nevertheless, animals are wary of strangers, prefer to stay away. But, if a person shows interest in her, most likely, the dog will make contact.
Red-piebald hounds are loyal to children, especially if the pet grew up in a family with kids.
Care
The large Anglo-French Pinto Hound is fairly easy to care for. She has a short coat, which is replaced in spring and autumn, during these periods the dogs are combed twice a week. The rest of the time, it is enough to walk with a damp hand or a towel to remove the fallen hairs.
It is very important to monitor the cleanliness of the hanging ears of representatives of this breed. The accumulation of dirt causes inflammation and otitis.
Conditions of detention
The Great Anglo-French Pinto Hound is an active and hardy dog. She needs intense exercise. In the absence of proper load, the character of the animal may deteriorate. The pet becomes uncontrollable and nervous.
Grand Anglo-Français Blanc et Orange – Video