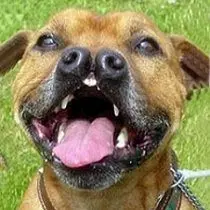 Double-nosed Andean tiger hound
Characteristics of Double-nosed Andean tiger hound
| | |
| --- | --- |
| Country of origin | Bolivia |
| The size | Average |
| Growth | about 50 cm |
| Weight | 12–15 kg |
| Age | 10–14 years old |
| FCI breed group | Not recognized |
Double-nosed Andean tiger hound Characteristics
Brief information
Exotic appearance;
Difficult to train;
May show aggression.
Origin story
The Double Nose Andean Tiger Hound is a natural wonder. It is one of three dog breeds currently in existence that actually have two completely separate noses. Perhaps even of the two – because due to some confusion associated with the poor study of these dogs, some cynologists divide Bolivian two-nosed dogs into tiger hounds and just hounds. The difference is in color, and the first ones seem to be a little larger. But other experts say that these are just varieties of the same breed.
It is assumed that the matter is in a long-standing mutation, which somehow fixed itself. The ancestor of these dogs is considered to be the Navarrese pastons, who at one time came to America on the ships of the Spanish sailors. For the first time, the existence of two-nosed dogs was announced by the traveler Percy Fossett, who visited the Bolivian Andes. But his stories about unusual dogs were not particularly believed. And only in 2005, Colonel, researcher John Blashford Snell, traveling through Bolivia, saw a two-nosed Andean tiger hound in the village of Ohaki. He not only took photos, but also bought himself such a unique puppy, which was presented to the general public and gained great popularity.
Behaviour
So many dog ​​lovers wanted to have such a miracle. The well-being of local residents has increased dramatically – the number of people wishing to acquire a representative of this rare breed to this day exceeds the number of puppies born. The fact is that there can be different puppies in the litter, including those with ordinary noses. And these dogs are not particularly prolific – usually 2-3 puppies are born.
Buyers are not embarrassed by the lack of documents, nor by the fact that the International Cynological Federation refused to recognize this breed. The refusal is motivated by the fact that binosity is not a breed trait, but the result of a mutation. Indeed, very rarely, but it happens that other breeds give birth to puppies with a forked nose, which is considered a marriage. But many cynologists do not agree with this position of the FCI, since a mutation is a single phenomenon, and there are hundreds, or maybe even thousands, of Bolivian dogs.
Description
Funny muzzle with two noses. At the same time, nature made sure that it did not look ugly – on the contrary, two noses give the dog a certain charm. Dogs of medium and medium-small size. The coat is short, but there are individuals with a semi-long one. Color can be any, isolated in a separate branch of animals with a piebald, brindle color. Another feature is an outstanding sense of smell.
Double-nosed Andean tiger hound Character
Centuries of semi-wild life, of course, affected the character. In Bolivia, until recently, these dogs lived next to a person, but not with him. Now the situation is changing, nevertheless, the independence and aggressiveness of two-nosed dogs, which previously helped them to survive, is still quite clearly manifested. Such a puppy needs to be patiently raised from a very young age.
Care
No special care is required – the only thing is that the standard procedures – cleaning the ears , trimming the claws , bathing – the dog needs to be taught from childhood, so that in the future she takes them for granted.
Double-nosed Andean tiger hound – Video