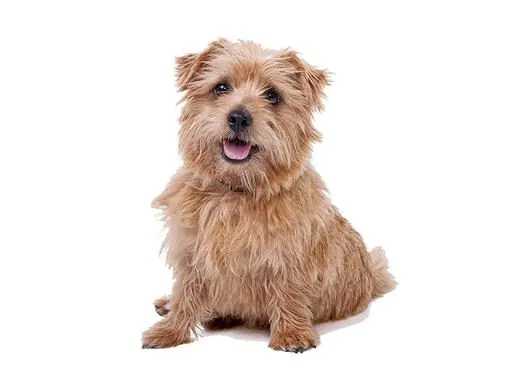 Characteristics of Norfolk Terrier
| | |
| --- | --- |
| Country of origin | England |
| The size | Small |
| Growth | 23–25 cm |
| Weight | 4.5–6 kg |
| Age | 12–15 years old |
| FCI breed group | Terriers |
Norfolk Terrier Characteristics
Brief information
Perfect for a person who first decided to get a dog;
Very easy to care for wool;
Needs attention and communication, does not tolerate loneliness.
Character
In the 19th century, Norfolk Terriers were bred to fight mice in the barns of English farmers. The name of the breed was given in honor of the county of the same name. They began to be considered an independent breed since 1964, when Norwich Terriers , which differ from Norfolks only in the type of ears (they lie in Norfolks, and stick up in Norwichs), ceased to be considered the same breed.
The Norfolks have a truly British sense of dignity. These small dogs are gentle with people and other pets living in the house. If there are children in the family, then the Norfolk Terrier is a smart breed choice. With kids, the dog will be friendly, his balanced character is one of the advantages of the breed.
At the same time, breeders are captivated by his sparkling playfulness. The dog loves to contribute to the affairs of the household. But he does not tolerate loneliness well, and this is important to consider if you will be the sole owner of the pet – the owner with a busy work schedule will not suit the Norfolk. He needs attention, communication and constant contact with the owner so much that often even a Norfolk couch is arranged next to the owner's bed.
Norfolk TerrierBehaviour
Like all terriers, the Norfolk loves to socialize and play and needs active walks. This is not surprising, because the breed was bred to hunt rabbits and ferrets. Hunters appreciate these dogs for their excitement and excellent reaction.
Today, the Norfolk is a toy, companion dog. He has an excellent memory and picks up new commands with ease . However, there is a nuance in training a Norfolk: you can't be too tough with him. In response, he can build a wall of his stubbornness, and then nothing will force him to obey.
Norfolk Terrier – Video