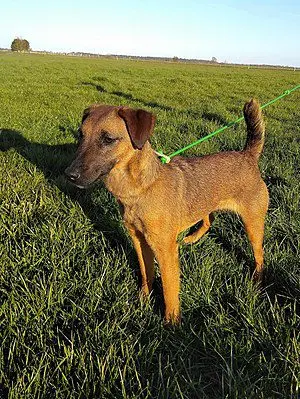 Characteristics of Westphalian Terrier
| | |
| --- | --- |
| Country of origin | Germany |
| The size | small, medium |
| Growth | 30–40 cm |
| Weight | about 9–12 kg |
| Age | 12–15 years old |
| FCI breed group | Not recognized |
Westphalian Terrier Characteristics
Brief information
Pretty young breed;
Active, mobile;
Curious.
Character
The Westphalian Terrier is a German hunting dog breed, bred relatively recently. Her breeding began in 1970 in the town of Dorsten.
German breeder and big fan of hunting dogs Manfred Rueter decided to create a new breed. To do this, he crossed a Lakeland Terrier and a Fox Terrier . The experiment turned out to be successful. The resulting breed was first called the West German Hunting Terrier. However, in 1988 it was renamed the Westphalian Terrier. The new name not only emphasizes the difference from other breeds, but also indicates the place of its origin.
The Westphalian Terrier is known today both at home and abroad. The reason for the popularity lies in the pleasant nature and excellent working skills of these dogs.
As befits a real hunter, the Westphalian Terrier cannot sit still. He is always ready for games, entertainment, running, logic puzzles. The main thing is that the beloved owner is nearby. He is the whole world for the dog, she is ready to serve him until her last breath. Owners say that often the pet, as it were, anticipates their desires.
Behaviour
By the way, the Westphalian Terrier can be not only a hunting assistant, it often becomes a companion for families with children. The dog gets along well with children of school age. However, you should not leave your pet alone with the kids. This is not the best babysitter for them.
It is not so easy to train representatives of this breed. A quick mind and ingenuity allow animals to grasp information literally on the fly, but stubbornness and independence can backfire. Dogs are trained as early as puppyhood. In this case, special attention is paid to positive reinforcement. Love and affection are key concepts in training any dog.
The Westphalian Terrier can be very jealous of the owner . This applies to both family members and animals in the house. The solution to the problem is in proper education. If you can't fix the situation on your own, it's better to contact a cynologist.
In general, the Westphalian Terrier is an open and friendly breed. Dogs are curious, which may not always please, for example, a cat. But if the animals grow together, then most likely there will be no problems.
Westphalian Terrier Care
The Westphalian Terrier is unpretentious and easy to care for. During the molting period, the dog is combed out, trimming is periodically carried out .
It is important to monitor the condition of the ears and teeth of the pet. For a dog's teeth to be healthy, it needs to be given a solid treat .
Conditions of detention
The Westphalian Terrier can live in a city apartment, he does not need a large space. But it is recommended to walk the dog two or three times a day, offer it various exercises and fetching . You can also play frisbee and other sports with it.
Westphalian Terrier – Video