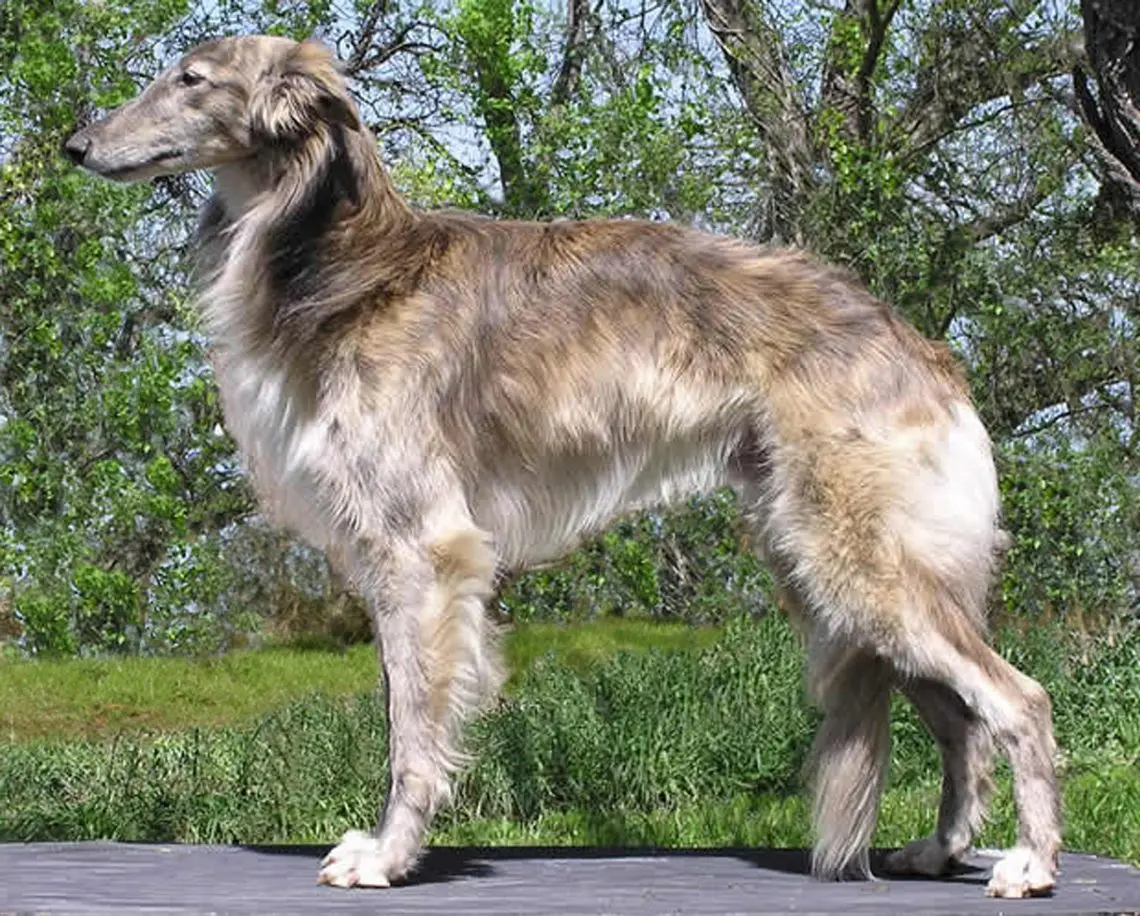 Characteristics of Silky Windhound
| | |
| --- | --- |
| Country of origin | USA |
| The size | Average |
| Growth | 46-60 cm |
| Weight | 10–25 kg |
| Age | 10–13 years old |
| FCI breed group | Not recognized |
Silky Windhound Characteristics
Brief information
Smart, playful;
Affectionate, friendly;
Sports.
Origin story
This very young breed, belonging to the group of greyhounds, is still not recognized by the FCI. It was bred in 1987 in America by the breeder Francie Stull; the founders of the breed were long-haired whippets and russian dog greyhounds. The first silky windhound club was founded in 1999, and the current breed standard was adopted only in 2001. Now these dogs are bred in the USA, Canada, Europe and even in Africa.
Description
A long-legged dog of a rectangular format, a "flying" silhouette, with an elongated head characteristic of greyhounds. Windhound males are noticeably larger than females, and they also have thicker coats. Wool should be silky (hence the name), soft, light. Both waviness and curlyness are allowed – the main thing is that the undercoat is not too thick and does not weigh down the silhouette of the animal. Color can be almost anything. Silky windhounds come in two types – reminiscent of long-haired whippets and reduced Russian borzoi dogs.
Silky Windhound Character
These are human-oriented dogs, and they are absolutely not shy about expressing their love and devotion to the owner. Excellent trained. They get along well with relatives, with small children; it's very good if the windhound has a playmate – it will be where to throw out irrepressible energy. Thanks to a moderately pronounced hunting instinct, they can be kept on the same territory with small pets, including cats. In work, they are hardy and reckless, but not aggressive. Because of their natural friendliness, they are not suitable for guards and guards: it is quite difficult for them to perceive a person as an enemy.
Care
Ears, eyes and claws processed as needed. A more careful attitude requires wool, which should carefully comb out at least a couple of times a week, which, however, due to the insignificance of the undercoat, will not be difficult.
Silky Windhound – Video