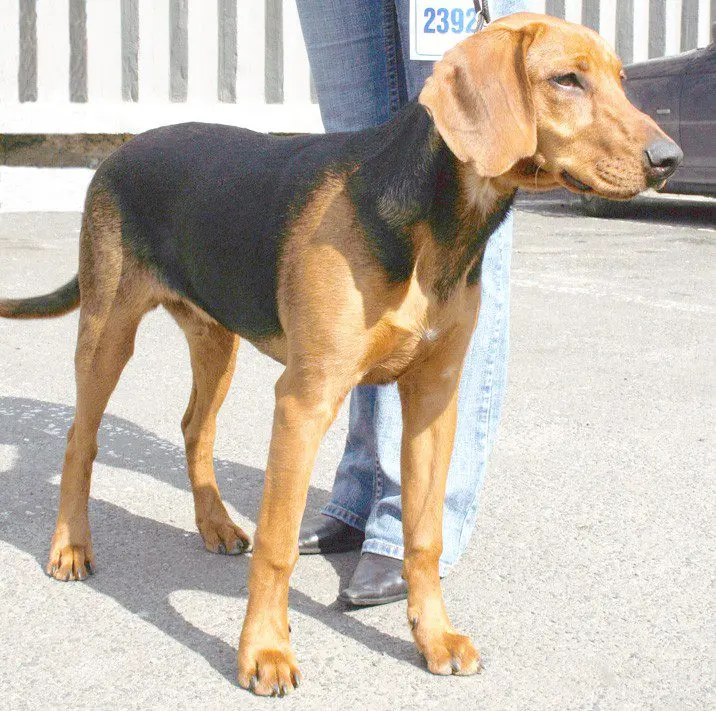 Characteristics of Schiller Hound
| | |
| --- | --- |
| Country of origin | Sweden |
| The size | Average |
| Growth | 49–61 cm |
| Weight | 17–26 kg |
| Age | 12–14 years old |
| FCI breed group | Hounds and related breeds |
Schiller Hound Characteristics
Brief information
Calm, peaceful;
obedient and executive;
Intelligent;
Another name is Schillerstovare.
Character
At the first dog show in Sweden, held in 1887, among 189 types of hounds, there was a pair of unusual dogs named Tamburini and Ralla I. Their owner was a breeder farmer Per Schiller, who probably crossed Swiss and British hounds to produce a new type of dog. In honor of the creator, this breed got its name.
The Schiller Hound was recognized by the Kennel Club of Sweden in 1907, and by the FCI in 1955.
Pleasant in every way, Schiller hounds are excellent companions for families with children and for single people. Calm, balanced and intelligent dogs are infinitely devoted to their master and are ready to serve him until the last breath. Their security qualities are not very well developed – they are open and sociable pets. Despite the fact that they do not trust strangers too much, they are nevertheless neutral towards them. Some dogs of this breed will even be happy to meet a new person.
Behaviour
Hound training requires a thorough approach. In general, Schillerstovare are diligent and observant, but can sometimes be distracted. Such is the nature of the hunter. If you are not ready for many hours of classes, it is better to entrust education to a professional dog handler . The trainer will tell you how to find an approach to the dog with a minimum number of mistakes.
Surprisingly, the seemingly friendly Schillerstovare is actually not so willing to communicate with relatives. The fact is that these dogs were used for hunting alone, so they do not get along well with other animals. Moreover, pets of this breed also need early socialization , only then they will calmly respond to relatives.
Hounds treat children favorably, as a rule, they are not aggressive, but a lot depends on the particular dog, its character and mood. Therefore, it is better to keep the situation under constant control until you understand exactly how the animal reacts to the different behavior of children. Most easily, these dogs find a common language with teenagers who can work with them, walk and feed them.
Schiller Hound Care
The short-haired Schillerstovare does not require much grooming. It is enough to wipe the dog with a damp towel or just with your hand to remove the fallen hairs. They have a strong molt twice a year – in autumn and spring. During these periods, the dog must be combed with a furminator at least twice a week.
It is important to monitor the condition of the hanging ears of the hound. Like many animals with this type of ear, they are prone to developing otitis and other diseases.
In addition, it is necessary to examine the pet 's oral cavity every week. To prevent the development of dental disease, periodically give him hard treats .
Conditions of detention
At home, Schillerstovare usually behaves somewhat phlegmatic, but on the street he turns into a real athlete. Like all hounds, he needs exercise. This is extremely important for both his physical health and psychological. It is good to get out with the dog on nature at least a couple of times a week, so that she can properly warm up and run. This is especially important for those owners who live in the city.
Schiller Hound – Video