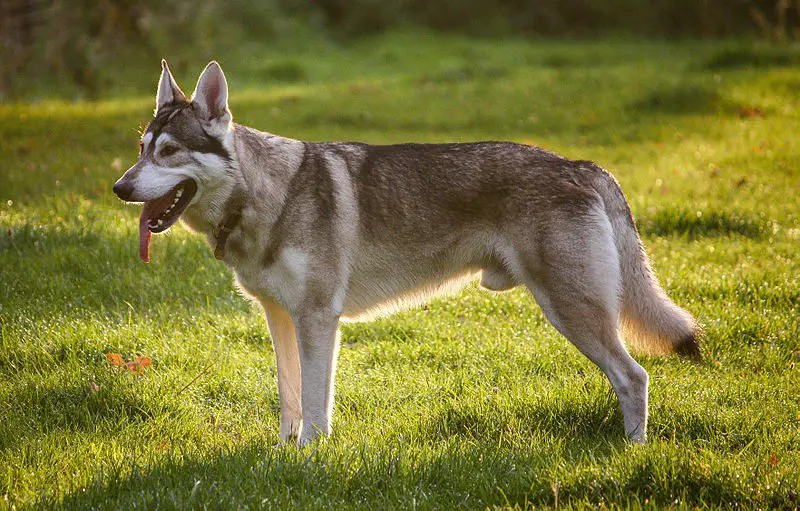 Characteristics of Northern Inuit Dog
| | |
| --- | --- |
| Country of origin | Great Britain |
| The size | average |
| Growth | 58-81 cm |
| Weight | 25–50 kg |
| Age | 12–14 years old |
| FCI breed group | not recognized |
Northern Inuit Dog Characteristics
Brief information
Balanced;
Show independence;
Strive for dominance and leadership roles;
A dog of this breed plays the role of a dire wolf from the Game of Thrones series.
Character
The northern Inuit dog was bred in the late 1980s. There are two versions of its origin. According to the first, her ancestors are Siberian Husky, Malamute, German Shepherd and dogs of the northern people – the Inuit, chosen by Eddie Garson, the creator and "godfather" of the breed.
Another version says that the animals were obtained in the USA as a result of crossing canadian eskimo dog, Alaskan Malamute and German Shepherd. Later, several individuals were brought to the United Kingdom.
One way or another, the goal of the breeders was to get a "domestic wolf" – a companion dog that would look like a wild animal. And, judging by the exterior of the northern Inuit dog, the goal was achieved.
By the way, in the first season of the popular TV series Game of Thrones, the role of direwolves is played by representatives of this particular breed. Despite the peculiar "aboriginal" appearance, the northern Inuit dog is very friendly, it does not show aggression without a reason. Smart and quick-witted animals often show their character and strive to take the place of a leader in the family. So the owner of such a pet must be a man with a firm hand. And if experience education and training he doesn't, he will need the help of a cynologist.
It is also important to pay attention to timely
socialization
puppy. Without it, the dog can be nervous and intolerant of people and animals.
The Northern Inuit Dog is usually great with children. But, like any large pet, through negligence, it can harm the child. Games must be supervised by adults.
Representatives of the breed do not tolerate loneliness. Experts do not recommend leaving such a pet alone, it is desirable that someone always be with him – for example, another dog. Together they will not be bored in the absence of the owner. Moreover, northern dogs quickly find a common language with relatives.
Care
The dense coat of the Inuit dog is replaced twice a year – in autumn and spring. During these periods, pets comb out every two or three days. The rest of the time, it is enough to carry out this procedure once a week.
In order for the dog's teeth to be in order, it is necessary to periodicallyclean themwith a brush. In addition, it is worth giving the pet and special hard treats, they gently remove plaque.
Conditions of detention
Northern Inuit dog will be a wonderful companion for an active person. With it you can play sports on the street, run or ride a bike. It is also desirable to pay attention fetching and various pet exercises. Representatives of the breed are hardy and ready to accompany the owner everywhere.
Northern Inuit Dog – Video