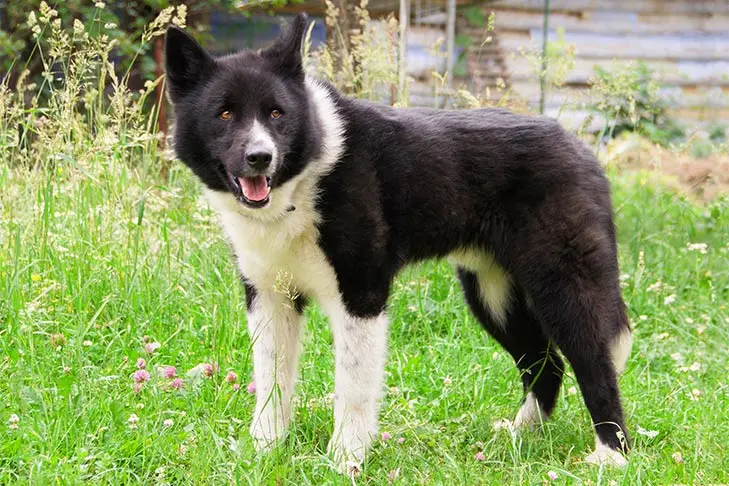 Characteristics of Karelian Bear Dog
| | |
| --- | --- |
| Country of origin | Finland |
| The size | Large |
| Growth | 48–58 cm |
| Weight | 20–23 kg |
| Age | 10–12 years old |
| FCI breed group | Spitz and breeds of primitive type |
Karelian Bear Dog Characteristics
Brief information
Brave and independent;
Loyal to one master;
Easily adapt to any weather conditions.
Character
The homeland of the Karelian bear dog is Finland. Researchers believe that dogs of this breed were officially bred in the 19th century. At the same time, her ancestors – dogs of the Spitz type – probably appeared in these territories long before their development. Interestingly, the appearance of the Karelian Bear Dog resembles a black and white Russian-European Laika. However, the second was bred much later – only in the middle of the last century.
By its nature, the Karelian Bear Dog is a real husky, serious, responsible and purposeful. This is a hunting breed, and in work it has no equal. This explains the popularity of dogs in their homeland. By the way, they are common in the north of Russia, and in Norway, and in Sweden, and even in the UK.
The Karelian Bear Dog is a pet of one owner. It is him that she will obey unquestioningly. The dog treats family members with love and kindness. He does not trust strangers, although he does not show aggression. This is a peaceful breed.
Behaviour
Bear dogs make excellent watchdogs, capable of making noise at the sight of an uninvited guest. However, they will not attack, so the executive guard will not leave the pet.
The Karelian Bear Dog is not easy to train . They are stubborn and independent. If the owner tries to train the pet at random, he may not expect a good result. It is better to immediately contact a dog handler who will help you find an approach to your pet.
Like all dogs, the Karelian Bear needs early socialization , representatives of the breed can be quite aggressive towards relatives. Starting from 2-3 months with a puppy, you need to walk a lot, show him the world around him, other animals and people.
The Karelian Bear Dog is quite jealous of its owner. For this reason, not all animals can calmly perceive children. And the child is unlikely to be able to independently care for a wayward pet.
Karelian Bear Dog Care
The thick coat of the Karelian Bear Dog should be brushed a couple of times a week. During molting – in spring and autumn – the procedure is repeated more often – up to 3-4 times.
It is important to pay attention to the cleanliness and health of your dog's teeth. They should be inspected weekly and cleaned as needed .
Representatives of the breed have good health and immunity, in addition, they are very hardy. So far, no hereditary diseases have been found in dogs of this breed.
Conditions of detention
The Karelian Bear Dog is a very active and energetic pet. She needs many hours of walking, exercise and running.
Life in a city apartment is not suitable for a dog of this breed. She will feel much more comfortable in a private house outside the city. At the same time, in no case should you keep a pet on a leash: it is a freedom-loving and independent dog.
Karelian Bear Dog – Video