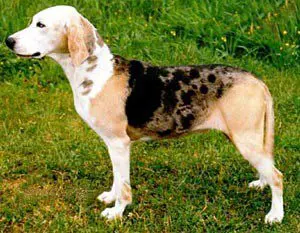 Characteristics of Dunker (Norwegian Hound)
| | |
| --- | --- |
| Country of origin | Norway |
| The size | Average |
| Growth | 48–55 cm |
| Weight | 16–25 kg |
| Age | 10–15 years |
| FCI breed group | Hounds and related breeds |
Dunker (Norwegian Hound) Characteristics
Brief information
Friendly;
Gets along well with other dogs;
Excellent hunters.
Origin story
The Norwegian hound belongs to the group of Scandinavian hounds. This beautiful breed was named after Wilhelm Dunker, who over a century and a half ago successfully crossed the best hounds of Russian and English breeds. Wilhelm's goal was to breed a hardy hound capable of chasing a hare for a long time. The result of crossing was excellent, the breed really turned out to be very hardy. These dogs are easily oriented in any terrain and are able to take a trail everywhere – in the mountains, in the forest, even in deep snow. And, thanks to the fantastic perseverance in achieving the goal, if the dog takes the trail of the hare, it will never leave it, it will pursue the prey to the bitter end. It will stop only when the hare is caught.
But this wonderful breed of dog is not very popular outside the Scandinavian countries. She is not yet recognized by the English and American Kennel Clubs.
Description
Rectangular dog. The body is elongated, with a deep chest. The head is long, the muzzle is straight, long, with a straight back of the nose. The eyes are dark in color, but blue with bluish-marble shades are also allowed. The ears are soft and thin, of medium length, hanging. The paws of the Norwegian hound are slender, but very strong and muscular.
The coat is black with fawn or fawn or blue merle markings. In its structure, it is straight, thick, not soft, relatively short, close to the body. The Norwegian Hound has a beautiful color – saddle with clear lines.
The tail of the hound is thick at the base, but gradually thinning towards the end. The voice is loud, sonorous.
Dunker Character
The Norwegian Hound has an even temperament, kind, but at the same time persistent character. Aggressiveness shows only on the hunt, and then as needed.
In addition to hunting talents, it is endowed with the ability to perform watchdog functions.
At home, this is a fairly balanced dog, devoted to the owner, with great pleasure she plays with children, showing them the utmost caution.
But it is better not to keep small animals in the house at all: the dog can take them for prey and start chasing them.
Care
There are no difficulties in care, since the health of the Norwegian hound is genetically excellent. Standard procedures – ear cleaning , nail trimming – are performed as needed. Wool is perfectly cleaned with a stiff brush. Bathing a dog often is also useless, in most cases it is enough to wipe its coat with a damp cloth.
Dunker – Video