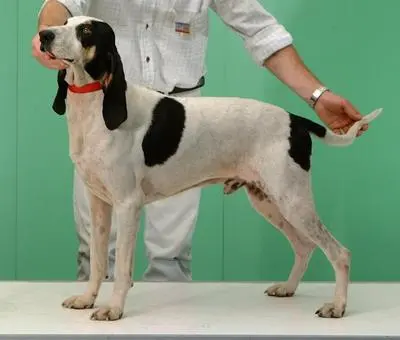 Characteristics of Ariegeois
| | |
| --- | --- |
| Country of origin | France |
| The size | Average |
| Growth | 50-58 cm |
| Weight | 25–27 kg |
| Age | 12–14 years old |
| FCI breed group | Hounds and related breeds |
Ariegeois Characteristics
Brief information
Another name is the Ariege Hound;
industrious;
Balanced, calm, somewhat phlegmatic.
Character
Ariegeois is one of those French hounds, bred in the 19th century, which are the national pride of the country. To develop a new breed, the Blue Gascon and the Gascon Saintonge Hound were crossed – at that time they were considered the best representatives of the French dog group.
Ariégeois were officially recognized by breeders in France at the beginning of the 20th century. Unfortunately, during the Second World War, the breed was almost completely destroyed. It was possible to restore it only through the efforts of fans in the second half of the 20th century.
Ariegeois is a real intellectual among the French hounds. These calm, balanced dogs rarely bark and always listen carefully to their owner. However, training is indispensable. Even the most obedient pet needs education. In addition, not all representatives of the breed can be exemplary students. So the owner, who first gets a dog, will have a hard time. Breeders recommend contacting cynologists. In addition, like all dogs, the Ariégeois needs socialization. It should be carried out at an early age, when the puppy is 2-3 months old.
Behaviour
At home, they are quiet and calm favorites, but at work, the Ariege hounds are a real hurricane. Hunters value dogs for determination, perseverance, agility and agility. Animals hunt in a pack. In the 19th century, such packs could reach hundreds of heads! Thanks to this, the Ariegeois is a sociable and open dog. She easily finds a common language with relatives, can get along even with an unfriendly neighbor.
The security skills of the Ariejois are poorly developed. The pet is distrustful of strangers and never makes contact until it is convinced that there is no danger. But he does not show aggression towards an uninvited guest. Aggression, like cowardice, are disqualifying characteristics of the breed.
Ariegeois treats children with affection and love. But leaving the dog alone with the kids is still not worth it: this is not a nanny, but a companion. A pet will be able to truly make friends with school-age children.
Ariegeois Care
The Ariejoie has a short coat, it does not require careful care. It is enough to wipe the dog every week with a damp hand to get rid of the fallen hairs. During the molting period, the combing procedure is carried out more often, about once every three days.
Conditions of detention
Ariegeois is a hound dog. Usually dogs of this breed are brought up by families living outside the city. For a happy and fulfilling life, an ariègeoi needs physical activity, a long and exhausting run. If the owner can provide this pet in the city, the animal will have no behavioral problems. Otherwise, the character of the dog will deteriorate from lack of exercise.
Ariegeois – Video