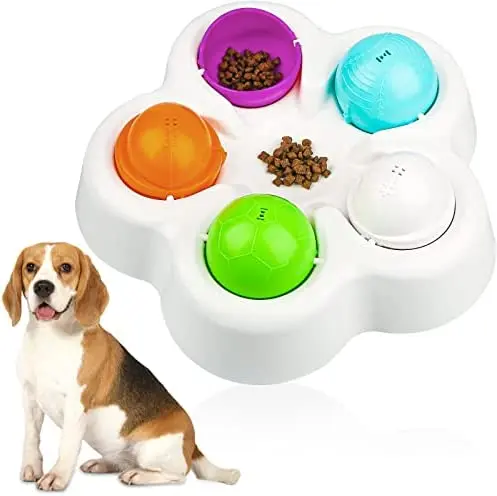 What are intelligent toys for dogs?
Since the dog is a very smart and quick-witted animal, it needs to provide interesting leisure time, then its physical and psychological needs will be fully satisfied. For these purposes, back in 1993, the famous Swedish breeder Nina Ottoson came up with a new entertainment for her pets – intellectual toys, which are now widely used around the world. With their help, dogs become more active and mobile, they develop attention and resourcefulness.
In addition, such toys can really captivate the pet, and instead of spoiling the furniture in the house in the absence of the owners, the dog will calmly play and spend time usefully.
Types of toys
There are a wide variety of toys on the market today. Depending on the breed and age of the dog, you can choose the best option. The most common are:
Soft. These are best suited for small breed dogs or puppies. When buying a soft toy, you should pay special attention to the quality of the material.

Rubber, silicone. Such toys are anti-stress: dogs can chew them, it is good for teeth. These materials are absolutely safe for the pet, as they are natural.

Developing. Toys of this type help to strengthen the body, develop dexterity and reaction speed. These include flying saucers, balls, rollers and tweeters.

Intelligent (interactive). Such toys for dogs make the pet think. As a rule, the pet's favorite delicacy is placed inside, which he must get, showing ingenuity and patience. Such toys include tug ropes, balls and cubes with a retractable lid.
In addition, luminous and edible toys can be found in pet stores.
Advantages of Intelligent Toys
Intellectual toys for dogs can be an excellent remedy for boredom. You need to choose them taking into account the characteristics and interests of the pet; for starters, it is better to purchase a simpler toy, gradually offering your pet more complex ones. The benefits of these toys include:
Environmental friendliness of materials (rubber, latex, wood and others);

Safety design (no sharp corners and small parts);

The possibility of learning and acquiring new skills through the game;

Switching the dog's attention and, as a result, getting rid of bad habits (for example, chewing everything).
Intellectual toys for dogs help to throw out the accumulated energy: they tire faster, so after such games the dog sleeps long and soundly.
Most often, a logic toy is a ball or a cube with holes where you can put a treat. In them, you can press a button, pull a string, or slide the lid with your paw to get to a delicious "prize". Intellectual toys also include ropes for pulling and pyramids with holes in which there is a treat. There are also more complex toys with opening of certain cells, in which the pet must put the bar himself.
It is very important to choose a toy that will fit your pet in size. It should hardly fit in the mouth to prevent it from being swallowed. It is also necessary to ensure that the dog does not eat pieces of material during the game, as this can provoke indigestion or the dog may simply choke.
Photo: Collection
July 13 2018
Updated: September 25, 2018