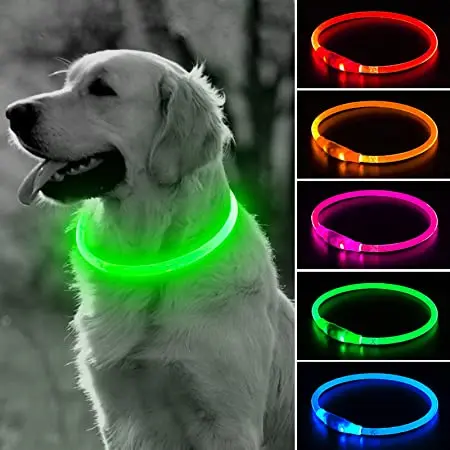 A luminous collar for a dog may seem like a strange and incomprehensible excess to a person who does not have pets. In fact, this is not only a catchy accessory, but also a detail that can save a dog's life.
What are the advantages of a luminous collar?
Convenience. It is easy to follow a pet on a walk in the dark;

Security.

Drivers and strangers can notice a bright collar even from afar;

Versatility.

During the day, you can turn it off – then it will look like a classic accessory.
If you are thinking about buying such an unusual collar, you should figure out how it works.
How is the luminous collar arranged?
The classic luminous collar operates on LEDs – a special tape with a switch is sewn into it. Depending on the type of device, it can work in one mode or in several – for example, flicker and static glow.
There are also simpler models – with a tape of reflective material. They are capable reflect the light of headlights and lanterns in the dark, but do not glow themselves.
Collar Properties
When choosing a collar for a pet, it is important to pay attention to the characteristics of the accessory so as not to make a mistake with the purchase:
Water resistant. Not all collars are protected with water-repellent material. Models with a low price are most often not designed for swimming, so wear such an accessory for a walk next to a pond is not worth it.

Batteries Oddly enough, not all collars provide the ability to replace batteries after the end of their service life. In this case, you will have to buy a new model. As a rule, they are designed for 100-150 hours of operation. But there are also models in which you can easily replace the batteries. Choose the one you like the most.

The size. Like classic models, luminous collars are often presented in several sizes: from the smallest (XS) to the largest (XL). In addition, the length of some models is adjustable.

When putting a collar on a dog, remember that two fingers should fit between the neck and the collar. It is equally important to make sure that the dog cannot reach the collar, so do not put it on too loosely.

This is especially true for animals with a short lower jaw. It is not uncommon for a dog to snag a strap and get stuck in an open-mouthed position, unable to get out on its own.

Clasp and carabiner. The problem with many collars is a bad carabiner and clasp that breaks prematurely. Pay attention to these details. If desired, you can even purchase and install an additional carabiner, for reliability.

glow mode. Many models of luminous collars offer several glow options: fast and slow flickering and static light. In order not to annoy the dog, choose a quieter mode – a static glow or a slow flicker. Focus on your pet's reaction.
Glowing collar is not only a fashion accessory. With it, walks in the dark can become much more comfortable and safer for both the pet and the owner. Such a collar will be especially relevant in winter and autumn, when it gets dark quite early. But when purchasing models at this time of the year, it is still better to give preference to waterproof collars so that neither playing with snow nor rain spoil the accessory and your mood.
Photo: Collection
July 6 2018
Updated: July 6, 2018