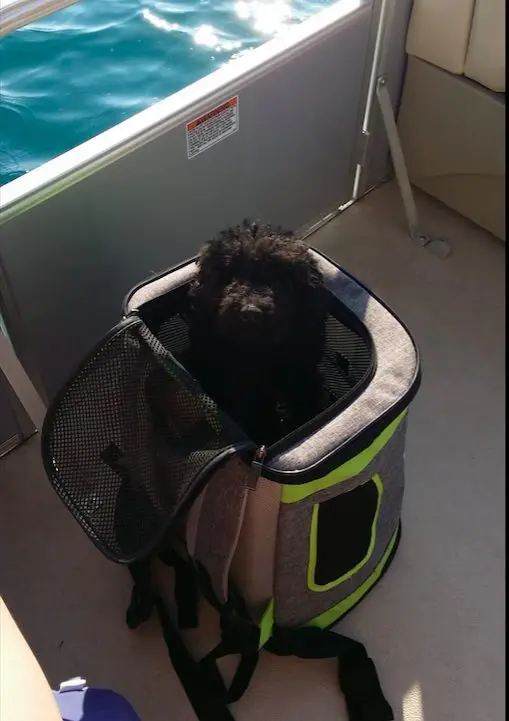 Hiking backpack for a dog: how to choose?
A backpack for a dog is a necessary thing not only for hiking. It can come in handy even on long walks and on ordinary trips. The main thing is to choose a comfortable model and weight with which the pet will be comfortable.
We are going on a hike
The capacity of the largest dog bag, as a rule, does not exceed 18 liters. It would seem not so much. But this volume is quite enough to fit food, a flask of water, a camping bowl and even grab a couple of your favorite toys.
Please note: it is better not to trust a pet with valuable cargo, because it can accidentally lose a bag.
What are backpacks?
In stores today you can find several options for hiking backpacks, which differ in volume, size and type of fastening. What to consider when choosing:
Choose a backpack according to the size of your dog. Manufacturers produce models for both small pets, weighing less than 7 kg, and for large ones, whose weight exceeds 30 kg.

In addition to size, it is also important to calculate the optimal load on the animal. It is believed that the most comfortable weight for carrying is 25% of the dog's body weight. That is, if a pet weighs approximately 30 kg, it can carry 7,5 kg.

You can not load puppies under the age of 1 year, and in some cases up to 1,5–2 years. The bones and joints of the dog have not yet formed, the load can harm.

Cling a backpack always on harnessnot on a leash. Choose models with a chest strap, they are safer and more comfortable.

Pay attention to models with a handle. A backpack for a dog is attached to the back, which means that when crossing a ford or any other obstacle, the pet will be much easier to lift and carry.

Some backpacks also come with a rain cover for the dog, which is very handy if the weather turns bad.

There are models that are stitched with strips of reflective fabric, they are suitable for night movements.
A hike is a test not only for a person, but also for a dog. Not every pet is able to participate in it. For example, small animals have a harder time – they are forced to expend much more effort than their large relatives. If you have a dog weighing up to 15 kg, you will have to make stops more often.
What else is worth considering when planning a trip with a pet?
When planning a trip, the first thing you need to do is visit a veterinarian and check the health of your pet. Also, make sure you have all the necessary vaccinations. Finally, it is advisable to collect a separate first aid kit for the dog; do not forget that not all human medicines are suitable for animals.

It is also very important treat your dog for ticks and take with you insect spray It's not just humans that need protection.

Think ahead about how you will get to your destination. It will not be superfluous to check vehicles, clarify the schedule of public transport and the rules for transporting animals on trains, buses, etc.

Rate the weather forecast. Short-haired dogs do not tolerate cold very well. For such a pet, you should take warm clothes and bedding.

Be sure to attach an address tag to the collar, indicate your contact details and city of residence if you are going to another region. This is necessary in case the pet gets lost.

Do not forget about breaks, give your pet the opportunity to take a break from the load, run freely. It is very important to determine exactly how you move with the dog, whether you allow it to run freely or keep it on a leash, releasing it only in the parking lot.
Photo: Collection
July 23 2018
Updated: July 26, 2018