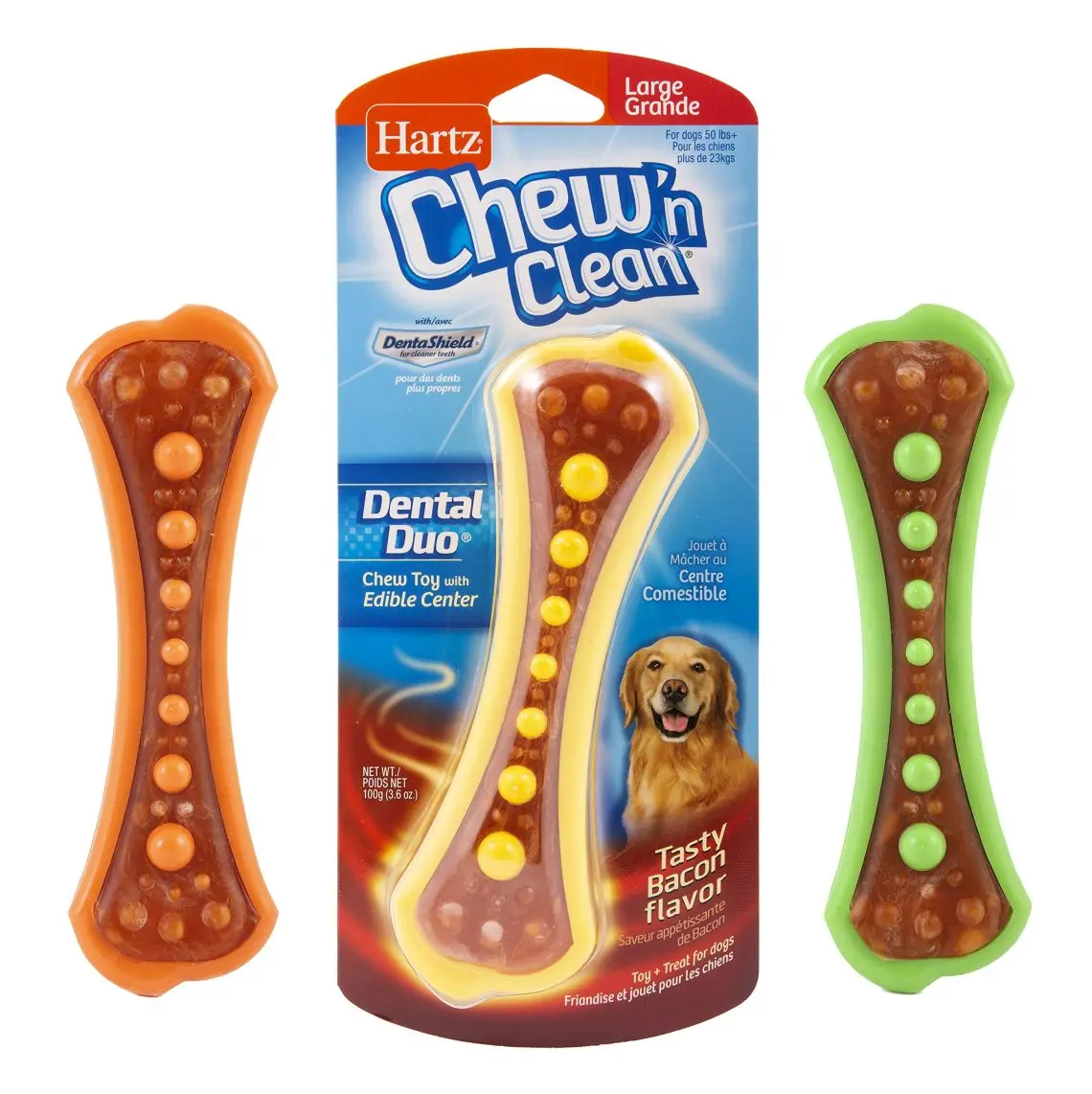 Moreover, not only the master's good, but also the unreasonable dog himself can suffer. Swallowed inedible objects, as a rule, are already removed by the surgeon in the operating room, chips from gnawed furniture injure the mouth, pharynx, esophagus and subsequent internal organs, the stuffing of soft toys eaten leads to intestinal obstruction, and indoor flower poisoning.
Special edible toys will save you from such troubles. Their range is quite large: there are legs with hooves, ears, a variety of sticks, sticks, curls. Even – about the black humor of the producers! – products in the form of slippers and boots.
But the most popular are traditional, in the form of bones of different sizes. Usually they include the skin of various animals, veins, bone meal and other products of animal origin.
By giving such a bone to their pet, the owners solve several problems at once.
First, irrepressible puppy energy is neutralized. A deliciously smelling item will keep the dog busy for a long time, and then it will return to it again and again.
Secondly, attention is distracted, previously directed to the owner's shoes and other objects that are tempting for the puppy.
Thirdly, the change of milk teeth to permanent ones is easier, the correct bite is formed.
For an older dog, edible toys are no less useful. They can be given out as an encouragement in educational processes or used as props during training sessions. They can brighten up the loneliness of the pet when you are at work. "Long-playing bone" will entertain your animal during the period of "arrest" in the bedroom during gatherings with guests.
Regular use of such delicacies prevents the formation of tartar.
How to choose edible toys?
The only situation where you may need the advice of a veterinarian is if you become the owner of an allergic dog. They will help you choose toys of the right quality, and then you will have to carefully study the composition of the ingredients indicated on the label.
In all other cases, you can experimentally and experimentally find those that your pet will like. It is only important to take into account the size of the dog – the dog should procrastinate the toy for a long time. Otherwise, you just organize additional feeding for him.
What should I pay attention to when buying edible toys?
For the expiration date. It would seem that what can go bad in a bone made of veins? There really is nothing to spoil there, but the bone can dry out and become brittle. Sharp fragments are a great danger.